Chester Security Systems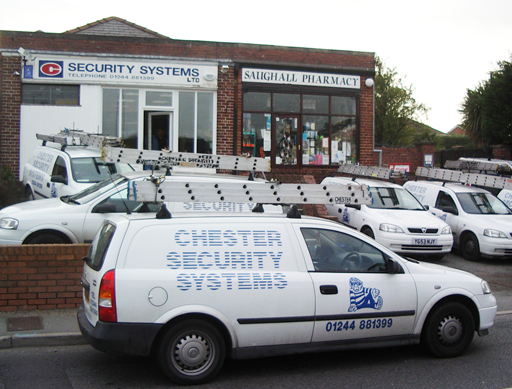 Hard wired burglar alarms
We install a full range of intruder alarms to NSI Gold Standard (formally NACOSS).
We install in a variety of premises Domestic, Commercial, Industrial and Corporate.
We mainly install the Gardtec range shown, however we are able to accommodate most customers if they have a preference of equipment.
All our new systems are installed to conform to PD6662:2004 which is the UK implementation of PR EN 50131-1 DD243:2004 and NSI codes of practice. These new standards came into force on 1st October 2005.
On completion of installation we will provide you with a certificate of conformance, stating what grade your alarm has been installed to.
If you have been requested to have an alarm installed by your insurance company it is important to ask them what grade is required. This will be 2, 3 or 4.
Control Panel

Sensors

Bell Box & Smoke Detectors

If you are required to have a monitored alarm please click on Alarm Monitoring.
Radio burglar alarms
We always recommend a hard wired system, but some customers do not like the cabling being run through the home. We do our best to conceal all wires if possible but sometimes due to decoration e.g. wood floor etc this can not be done.
With radio systems all sensors and door contacts do not have wires to them. If your home has recently been decorated you may find this your best option.
Even on radio systems the control panel, keypad and bell box will all be hardwired.
All radio systems conform to new European Standards PR EN 50131-1 Grade 2.
Systems can be part radio and part wired if necessary.
Eurosec CPX & Wisdom Fully Wireless

Mobile app remote systems from iRisco
You can now control your alarm and receive alarms with an app on iphone and android devices with latest software. We connect the alarm to your broadband router (loose notifications if router goes down) or via GSM (signal dependant). You can set, unset, see zones open and read logs
Support Android and Apple devices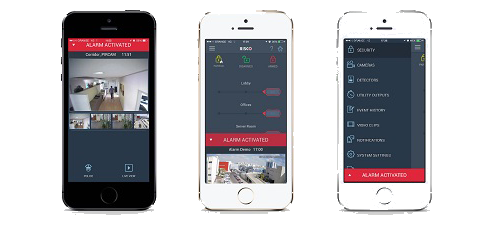 Web access using Risco Cloud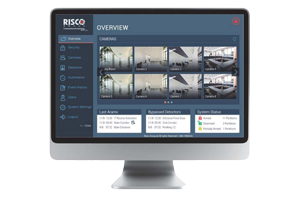 Access control
We install a full range of access control systems from standalone single door entry to PC based systems.
We can tailor a system to your specific requirements.
We are NSI approved on access control and you will receive a certificate of compliance.
Swipe & Prox

Keypad & Finger Print

CCTV
Attention should be drawn to the Data Protection Act 1998. Information can be obtained from the Information Commissioners office. Helpline: 01625 545740 Website: www.informationcommissioners.gov.uk
We install a full range of CCTV equipment from domestic through to industrial remote site monitored systems.
We are NSI approved for CCTV systems and you will recieve a certificate of compliance.
Small discrete cameras with built in IR night time illumination, high-res Colour day monochrome at night.

Digital recorder various sizes, records on a loop so you can leave recording until something happens. Has replaced VCR's - no need to change tapes. Can access any time and date that has recorded. Built in CD writer to remove evidence.
Domestic systems from £600 + VAT

Alarm monitoring

Speech dialler - Connects to any alarm and contact four peoples mobiles or land line phones. Can not call police.
GSM speech dialler - Connects to any alarm and contact four peoples mobiles or land line phones. Can not call police. Uses the mobile phone network, overcomes intruders cutting telephone lines.
Digital communicator - connects to any alarm and dials monitoring station in the event of any activation, in turn they will contact keyholders and police if alarm system compliant and police unique reference number current.
Redcare GSM - As digial communicator but monitors your phone line 24 hours a day for loss of line etc. This is dual path signalling, if the land line goes down it will work on the GSM mobile network. If any signalling path stops working it will communicate to the monitoring as a fault.
Dualcom GMS - This is a digial communicator combined with the GSM of a mobile phone network know as dual path signalling can use either path if one is knocked out.
Fire Alams
Chester Security Systems Ltd can either install or maintain existing systems subject to an on-site quotation.
1 - A BS5839:2002 dedicated fire system. Analogue or addressable
2 - Connect smoke senses linked to a standard burglar alarm. These can not call the fire brigade.
Subject to on-site quotation.
Maintenance contracts
All new installations come with a 1 year maintenance contract. This includes full product cover on proven faults, service visit and 24 hour support.
On domestic audible systems we service once a year and on monitored systems we service twice yearly.
We have a 24 hour emergency call out service for systems under maintenance contract. We will attend within 4 hours of call as per NSI requirements, our normal time to respond is within 1 hour dependant on workload.
Full product cover is offered to systems installed from new and maintenance is kept current, we will replace any part day or night.
Damage to equipment from user error, flood, lightning power etc is not covered under the maintenance contract and will be chargeable.
Our standard hourly call out labour rate is £38 + VAT if applicable.
Systems not installed by ourselves:
We do take over other companies alarms systems maintenance. We attend site and give the system a full check over and provide a quotation and recommendations.
We do charge for the survey, but this is refunded off the price of the maintenance contract, if you decide to go ahead.
About us
The company was started in 1979 by Peter Hughes and his wife and we are still in original ownership with both of his sons now in the business.
We employ 12 staff but still like to think of ourselves a family run concern. Because of this we can offer a personally tailored service.
We operate under NSI (formally NACOSS) and were awarded NSI Gold recognition in October 2003.
We work closely with police forces accross the country with upto date changes in police ACPO policies.
We are recommended to customers from their insurance companies as an approved NSI Gold installer in their area.
All staff are fully security screened and employed by us, we use no sub-contractors.
Please contact our friendly office team who will be more than happy to supply you with any further assistance you require.
Contact us for a free quotation